When the Hawk Tawk is in session, a dozen or more students cram into their small newsroom on the second floor of Bozeman High....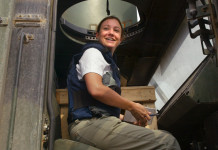 Matt Robbins and Bryan Denton met in Marjah, Afghanistan, in 2010. It was mid-February, and the U.S.-led offensive to drive the Taliban from a...
The media landscape is changing rapidly, and student-run media like the Montana Kaimin is no different. In April 2015, the Kaimin shifted from publishing...
Brennen Rupp was terrified when he stepped into the small Christian school in Libby, Montana. He was looking for Ruthanne Dolezal, mother of Rachel...