Despite causing the worst damage the state has seen in 100 years, wildfires may be helping Montana.
The western United States endured one of the worst wildfire seasons in history during the summer of 2012. In Montana alone, more than one million acres went up in flames, causing the great- est damage in over 100 years.
Sharon Hood, an ecologist at the Rocky Mountain Research Station, said that despite the damage, fire might serve an essential environmental function: halting mountain pine beetle attacks on Western forests.
Like a vaccine, fire stimulates the production of resin ducts, the soldiers of tree defense. During the first year, as a tree recov- ers from fire, mountain pine beetles can find an easy victim. But Hood found more resin flowing inside the tree after the year was up. Increased resin flow might stem the tide of mountain pine beetle attacks on forests, forming the crux of Hood's research.
"Before, we were just making a lot of comparisons and track- ing how much foliage had been scorched and how many buds have been killed in the tree, but I didn't have a good understand- ing of what was going on internally in the tree," Hood said.
Attitudes on wildfires and prescribed burnings fluctuate like the smoke drifting down in the Missoula valley every summer. Fire exacerbates asthma and other breathing-related problems, helping shape public views on fire.
"The problem is for the last hundred years we've been actively fighting fires and putting them out. It's called fire explosion where we not only suppress the fires but tell the public having fires is bad," said Robert Keane, Hood's supervisor.
Hood and Keane hope this research puts fire back, literally and figuratively, on the Montanan landscape as another tool to combat mountain pine beetle attacks.
Missoula debates alley housing
By Brett Bernsten
Missoulians quarreled for most of 2012 over a proposed ordinance that would legalize rental additions known as accessory dwelling units (ADUs) throughout the city.
ADUs, which can either be interior basement and attic apartments or exterior backyard cottages, are prohibited in single-family neighborhoods like the University District and the South Hills.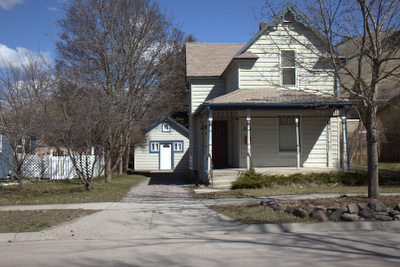 Proponents argue the ordinance would increase convenient, affordable housing options in Missoula, which suffers from a rental-vacancy rate well below the national average.
Opponents have been persistent and vocal in their resistance, contending ADUs will change the character of neighborhoods. Increased parking problems, trashy yards, and noisy neighbors are some of the biggest issues opponents say ADUs will bring to already crowded neighborhoods.
Supporters of the ordinance don't buy the gripes. They are quick to cite an owner-occupancy requirement, which they say would help keep unruly renters in check.
In addition, supporters say ADUs are prevalent throughout the city already, but many of them are illegal and not up to code. Lifting the ban could lead to significant upgrades on the existing ADUs.
Overall, the matter has consumed time and money from both sides. Public outreach programs and staff time will have cost the city about $20,000 by spring of this year. On the other side, opponents pooled more than $10,000 for a petition, hoping to force a two-thirds supermajority vote by city council to pass the ordinance.