"It was just a shitshow for the most part."
That is how Madelyn Beck remembers November 6, 2014, the final night of editing on Montana Journalism Review issue 44. Beck was deputy managing editor and she, with most of MJR's 21-person staff, started work on the final draft during the regular 80-minute class period. At 6:30 p.m., class should have been over, but Beck and her team would stay hard at work in room 305 of Don Anderson Hall for the next eight hours. She wouldn't leave until 2 a.m.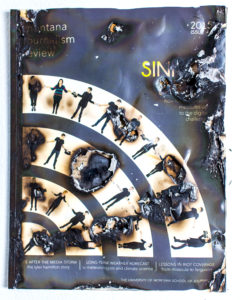 Around 7 p.m., a copy editor noticed a problem with the cover story, "Transients of the Digital Age." Written by Bjorn Bergeson, the eight-page spread examined the growing need for journalists to span the divide between print and broadcast media in order to stay relevant and keep jobs. To exemplify the trend, Bergeson focused his reporting on four Montana journalists from Missoula, Helena and Billings. But something was wrong. The MJR staff hoped that only a few words were off, but soon they realized the copy of the story was an early, unedited draft of Bergeson's story, not the fact-checked version. Even worse, the edited copy was nowhere to be found, caught somewhere between the university server and a separate dropbox system the staff used while working from home. All they could do was start re-editing the story from memory.
"Until that point I thought we had done a great job, and this entire process that we were responsible for had essentially fallen apart," said Jesse Flickinger, one of the three copy editors assigned to the cover story. At 8 p.m., pizza was ordered. Some staff members slouched in chairs and others sat on the floor, trying to fix design problems stemming from the departure of MJR's art director early in the semester. Stressed, frustrated and tired, they devoted an entire night to correcting errors to ensure that MJR would be fit to print.
"It was just a shitshow for the most part."
But in the end, it wasn't. In mid-December, an email from Darrell Ehrlick, editor of the Billings Gazette, reached MJR Editor-in-Chief Henriette Lowisch. Ehrlick expressed concern over the cover story, specifically references to "massive downsizing" at the Gazette, which had, in fact, never occurred. The Gazette also voiced other grievances: factual and logistical errors such as inaccurate dates and an assertion that a Gazette employee had been fired. He had actually left of his own accord to take another job with a Billings television station. All were errors that could have been avoided with more thorough fact checking. At the copy slam the staff had focused more on design flaws than on accuracy, and when publication time rolled around the effect was immediate.
Now there was a new problem: how does an annual publication go about correcting errors when it will be 11 months before the next issue? The five Lee Enterprises newspapers in Montana requested a correction letter be mailed to the entire MJR mailing list of about 750 people, but ultimately Lowisch and University of Montana School of Journalism dean Larry Abramson decided against it.
Abramson said the mistakes were certainly serious and needed to be corrected immediately, but he didn't agree they were damaging to the Gazette's reputation. "Some errors are simple errors of details and some errors really undermine the entire article," he said. "I didn't feel like this undermined the entire article."
Extensive review of the cover story began as soon as concerns were raised, and staff writer Bjorn Bergeson said he immediately started calling back his sources to confirm what had been said during interviews.
"It was a crazy and humbling experience in a lot of ways," Bergeson said. "It sucks to have to call a source up after a story's already gone to print."
Instead of the requested letter, an online correction was published as quickly as possible on the MJR website, as well as associated Facebook and Twitter pages. A printed correction was produced and inserted in copies of MJR that had yet to be mailed. Ehrlick appreciated the effort, but didn't feel the Gazette's requests had been adequately met.
"We were satisfied with the correction part of it," he said. "We were just a little disappointed…not a little, we were very disappointed in the distribution part of the correction."
After the errors were noticed and pointed out, managing editor Austin Schempp contacted the Student Press Law Center (SPLC), an advocacy nonprofit based in Washington, D.C. Schempp wanted to make sure MJR took the best possible steps to rectify the situation, and SPLC Executive Director Frank LoMonte believed it did. He said an online correction was the best recourse for an annual publication.
MJR is annual and the magazine is staffed four months of the year. It's a student publication of a different kind, the product of a UM senior capstone class offered every fall semester. An entirely new staff is selected each year and beginning with the start of classes, students have two and a half months before MJR goes to print. It's one of the most authentic and professional experiences a journalism student at UM can get. It offers opportunity for more than just writing and editing; it allows for an experience of what it's like to really screw up.
Peggy Kuhr, dean of the UM School of Journalism from 2007 to 2012 and now Vice-President for Integrated Communications at the university, thinks the long-term effects of last year's mistakes will be more positive than negative, because for the new staff, "the game's been upped." And even after what she calls last year's "shitshow," Madelyn Beck agrees.
"We're going to be able to learn from it which is part of it, part of the whole reason to do MJR," she said. "Now, when MJR alumni become professional journalists, they'll know exactly what it's like to be in the hot seat, and what to do if they ever find themselves there again."
Reagan Colyer is a junior studying Journalism, French and African American Studies at the University of Montana. She is a member of the Griz track and field team, connoisseur of Missoula's coffee shops and staunch opponent of the Oxford comma.
Tangent
MJR has striven for perfection in reporting since the beginning, but as all journalists know, there's always room for improvement. So this year, some changes were made to streamline the editorial process and guard against future mistakes:
In previous years, MJR hasn't had an editorial handbook for authors and editors to abide by. This year, the staff developed one in order to have common guidelines of fact checking, copy editing and formatting.
While many of the articles published in this magazine come from seasoned outside contributors, staff writers are asked to keep and submit their notes to fact checkers for story corroboration.
In a turn for the old school, all fact checks and copy edits are made on hard copies of each story rather than electronic versions. This eliminates the risk of being left high and dry without the edited version of a piece.
Once editing is complete, changes are reviewed by one of MJR's four senior editors and entered onto the digital file with the story's fact checker.
MJR 2015 Correction
A version of the article "Transients of the Digital Age," which was published in the print edition of MJR 2015, contained several errors:
The article stated that Greg Tuttle, online editor at Q2, left the Billings Gazette because he was laid off as part of a massive downsizing. We failed to double-check this information. In fact, Tuttle said he left out of his own volition and there was no massive downsizing at the Gazette, according to editor Darrell Ehrlick.
The article stated that at Q2, Tuttle took the job of Kyle Rickhoff, the Gazette's digital media director. While it's true that Rickhoff went from Q2 to the Gazette, this occurred five years before Tuttle's move in the opposite direction, so Tuttle wasn't hired to replace Rickhoff, as the sentence implies.
The article stated that Rickhoff started working at Q2 when he was 15, and that he worked in the control room and made commercials there. In fact, Rickhoff first worked at KULR-8, another television station, before he moved to Q2 in 2002. The Gazette hired him as online editor in 2008 and promoted him to digital media director in November of 2013.
The article stated that, once he was at the Gazette, Rickhoff brought on four other Q2 employees. In fact, he brought on two former Q2 employees.
The article stated that Rickhoff wanted to be a VJ, or video jockey, in his youth. What Rickhoff meant to say was that he wanted to be a radio DJ.
The article stated that Sanjay Talwani, a former print reporter, joined KXLH in January of 2014. In fact, he joined KXLH in October of 2013.
In addition, the caption for a photo on page 22 also contained an inaccuracy. It states that Emily Foster creates the entire 4:06 show by herself. In fact, she works with a colleague who edits the video and posts it online.
We regret the errors, which were immediately corrected in our digital editions.