Story by Alexander Deedy, photos by Elliott Natz
There were teepees as far as Kathy Weber could see in every direction. Riding next to John Lewis, her boss, in the parade at the annual Crow Fair, a tribal elder was shouting in the Crow language. Weber didn't understand what he was saying, but she could see the reactions in people's faces. She felt a connection between a leader and his community.
"Vote for John Lewis. He is a friend of Indian country," someone translated for her. At that moment, she thought: "We might just win this thing."
Election day showed otherwise. Lewis, the 2014 Democratic candidate for Montana's lone seat in the U.S. House, lost to Republican Ryan Zinke.
But it was a good story, and the woman telling it is a pro.
During her 10 years as a TV news reporter, producer, and anchor, Weber told stories to illustrate how real people were affected by policy.
Later when she worked for Montana Sen. Max Baucus, those stories helped her evaluate whether legislation was people- friendly.
As senior campaign adviser and communications director for John Lewis, the 2014 Democratic candidate for Montana's lone seat in the U.S. House, she crafted a narrative to plug her candidate.
"In journalism, you learn from day one that no story is complete without real people," Weber said.
It's a lesson that's served her well on both sides of the journalistic-political divide.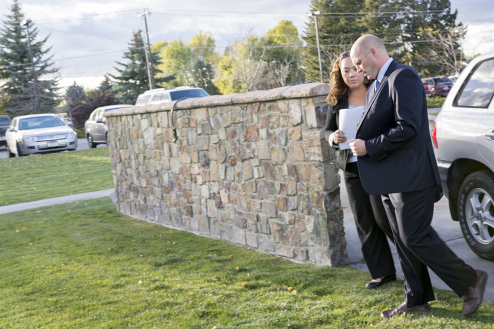 Weber was born in a garage in the Bitterroot Valley, delivered by a neighboring rancher. Her parents watched the news religiously.
"I really figured you have to know what's going on so you can be a part of a solution or something," said her father Gerard Weber.
In a tug between trying to understand the U.S. system and wanting to tell stories, Weber decided to double-major in journalism and political science at the University of Montana.
Later, as a cops-and-courts reporter for KPAX in Missoula, she'd watch people on what was perhaps the worst day of their lives, with a camera in her hand.
"You see someone one day, it's their fourth DUI, a couple months later it's their 10th DUI. And you start to wonder as a journalist, what am I doing, am I making a difference? Does anyone even care?"
The question lingered until the day Weber reported on an unknown victim of a serial killer. Soon after the story was posted online, the sheriff's office received a call from the victim's brother. He never knew what happened to his sister who had disappeared.
"That family to me was one reason why journalists are so important," Weber said. "They help people know what happened."
Later in 2010, when she was an anchor in Billings, she received a call from Sen. Baucus' office. She expected a routine news check-up, but when they sat down for coffee, it became clear they were offering her a job. u
She went home, told her husband, and cried.
Joe Bates, her husband, didn't have much work in his job as a builder, so the pay raise was a positive. Plus, her role as an anchor kept her from seeing her children in the evenings.
She took the job.
"I still think of myself as a journalist. I never got tired of journalism and I don't think I ever will, 'cause I believe it's important. I really enjoy working with reporters every day. When I left the news business, it wasn't because I was trying to escape, it was because I was recruited by Sen. Baucus' office."
Weber sounded ready to explain the move.
After all, she wasn't the first journalist to shift to advocacy and PR, and won't be the last.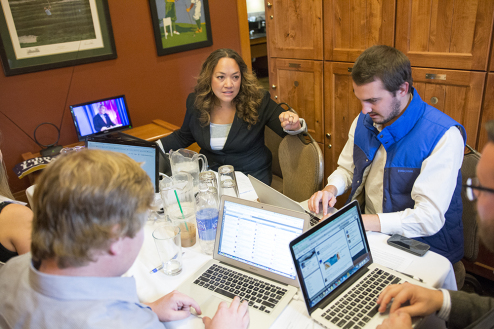 Kyle Schmauch, grassroots coordinator for Steve Daines' senatorial campaign, wanted to make sure the cameras had the best lighting possible on primary night.
When the news cameras arrived, Schmauch took a moment to peer through the lens. He knew lighting would make the difference between the candidate looking flat on screen or appearing natural.
Since high school, Schmauch had been chasing both politics and journalism. Just like Weber, he graduated from the University of Montana with degrees in journalism and political science.
After interning in New York City for "The Five," a talk show on Fox News, he figured he could get a job with Fox post-graduation.
But that would require embarking on a 10-or-15- year climb up the corporate ladder.
"I decided that I could have a bit more of a direct impact by working on the political side for the actual people who are making the decisions, where the actual policies are being discussed," Schmauch said.
He says his journalism background keeps him from promoting something he doesn't agree with, just because it might highlight the candidate. At the same time, he knows first-hand that journalists are always seeking more information, whereas political candidates do their best to stay on message.
"There's really no benefit whatsoever in being too open, because at the end of the day all that can do is hurt you, most of the time," Schmauch said.
From his perspective, political spokespeople don't intend to mislead, but are merely working toward a goal: Trying to get their candidate elected.
"Going to the 'dark side,' working on communications or politics, that kind of thing, isn't as much of a 'dark side,' I think, as reporters make it out to be."
For her part, Kathy Weber cites an old adage that has the politician wake up and run as fast as he can away from the journalist, "and the journalist wakes up and runs as fast as he or she can to trip the politician.
That method, she said, isn't the way to earn public trust. She prefers the old- fashioned method: Taking reporters' tough questions head on.
Veteran political reporter Chuck Johnson, of Lee Enterprises, spent a day on the Flathead Indian Reservation with John Lewis and Kathy Weber, working on a profile of the House candidate.
At one point during the day, Johnson asked Lewis about his wife Melissa's work as a lobbyist in Helena. Lewis, Johnson said, was fine answering the question.
Weber was a little more hesitent.
Johnson recalls her saying something along the lines of "I sure hope that isn't going to be a big part of your story. And I was like— 'well I had decided early on it was probably a separate story,'" he said.
"I mean, her job is to protect her candidate and my job is to try to tell what's going on. And I understand that, and she does, too."
Johnson says back when Weber worked for Baucus, he'd receive three to four press releases a day from the senator's office.
However, pursuing a story outside the press releases that was negative could prove a struggle, which is true with most political offices, Johnson said.
"Their job is to get you info when you need it, and if they think you're barking up the wrong tree they'll tell ya, and that's just part of the give and take."
Weber says she believes strongly in the importance of journalists taking an unbiased stance. She knows the opposition is going to get media attention too, and she's OK with that, as long as her candidate is treated fairly.
She says she expects hard questions, but when she thinks a reporter got it wrong she has no problem saying so, and will provide evidence to back it up.
"I'm living and breathing the critical importance of fact checking and sourcing —getting independent verification of sources," Weber said.
Questioning whether things work, or don't work, and why, is key in forming legislation that can last for generations, she said.
"I believe in service, that we're all in this together, and there's a lot of different ways to tell stories."
The truth, Weber figures, will come out in the end. So she prefers to not dodge reporters and she expects the tough questions—she used to be the one asking them.
Alexander Deedy graduated from the University of Montana in 2014. He is the education and business reporter for the Independent Record, the daily newspaper in Helena.