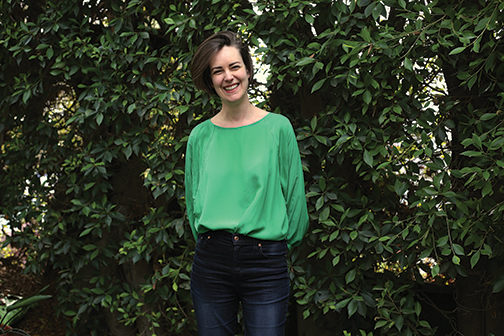 Ann Friedman learned the hard way that she'd gotten too popular.
When her weekly email newsletter wouldn't send one Friday, tech support broke the news that she'd passed the subscriber limit. Her mailing list, originally hosted on TinyLetter, was no longer tiny enough. These days, the Ann Friedman Weekly reaches 25,000 subscribers. A journalist, podcast co-creator and public speaker, Friedman has made getting emails fun.
Since her first letter in March 2013, Friedman has been thoughtfully curating her missives, peppering them with GIFs and showcasing her own publications along with a week's worth of what she's read. At the end of 2015, she introduced a classified ad section, one prong of her move toward monetizing the newsletter. The other is offering tiered subscriptions, with her incisive hand-drawn pie charts reserved for paying customers.
The weekly mailing started as a way to pull together her freelance work. As a former editor, she "missed the cohesion of doing a magazine." The sectioned structure helped her publish consistently, which she said was key to her unexpected success.
Friedman's venture debuted at a time when web audiences seemed to tire of the infinite news feed. Writing in The New York Times in 2014, David Carr attributed the success of newsletters to clear boundaries and implied intimacy, a respite in the sea of "all that chaos." Those boundaries were part of why Friedman chose the form. "There is something — and I think it's only increased since 2013 — about the sense that there's never a break with social media," she said. "In the middle of the night on the West Coast, you can refresh and get something new."
Jacqueline Boltik, a digital strategist who worked with Friedman in early 2016, lauds her for ignoring well-meant advice and following her vision. For example, naysayers predicted the classified ads wouldn't be worth the effort, but they now have a bigger return than tiered subscriptions. Friedman also ignored prevailing wisdom about when to hit "send." Tuesday or Wednesday usually yield higher open rates, but "I hate getting a big email on Tuesday or Wednesday. I want to get it on Friday when I'm goofing around and not really doing my work."
As of 2016, Friedman's paying reader base consisted of about 2,000 people, out of 25,000 total subscribers. Paid subscriptions cover fixed costs, which add up to just under $3,000 per year: her MailChimp fees, Google apps and Squarespace accounts to route email and process payments and a P.O. Box. Classified ads are the "gravy" that pays for the time she spends compiling the letter each week.
It's challenging to get people to pay for media. Friedman herself waited months to subscribe to the Los Angeles Times after hitting the free article limit. But in a medium best known for discount announcements and fundraising pleas, she's found a platform to innovate commerce as well as content.
Olga Kreimer is a Missoula-based journalist researching the connections between the natural world and education, community health and art in the journalism graduate program at the University of Montana. She once won a fight with a rooster using only her words.