By Ashley Nerbovig
In a side room of the Missoula County Courthouse, Gwen Florio snacked on apples and scrolled through her news feed. A cops-and-courts reporter for the local newspaper, she had waited out juries before, in cases ranging from the antics of a medical marijuana dealer to heartbreaking hit-and-runs.
This trial, however, played in a league of its own. The courtroom was packed, and a dozen reporters were Tweeting, recording, and otherwise covering it, from the Associated Press and the Missoula Independent, to Good Morning America and Fox News.
So when an email notification popped up on Florio's iPhone, announcing a verdict, she stuffed her Tupperware into her purse and sprinted to the doors of the courtroom across the hall. First in line, she claimed a middle seat with a view of the accuser's family, as well as the accused. Florio had sat there for most of the three-week trial, under the scrutiny of University of Montana students, football players, and alumni.
As the jury's decision was handed, on a small white piece of paper, to Judge Karen Townsend, Florio looked as if she wished she had an extra pair of eyes.
By February 2013, when former Grizzly quarterback Jordan Johnson stood trial for sexual intercourse without consent, Florio had been covering the scandal surrounding the University of Montana for 14 months. A veteran reporter, recruited by the AP in her last semester at the University of Delaware, she has covered everything from big city government to foreign wars. She refers to her time overseas as challenging, but also easy, because "the stories were right there in front of me." Via Philadelphia and Denver, she made her way west to the Great Falls Tribune before becoming the Missoulian's city editor in 2007, a job she traded for the criminal justice beat in 2010.
Florio reminds you of a close friend's mother. Open and willing to chat, she has an unmistakable air of authority that can be intimidating. She's unafraid to share her opinion and, on matters of principle, she doesn't budge. Originally from the east coast, she's always loved Missoula — a once conservative, blue-collar town that turned liberal, with the university by far its largest employer.
"Some really important issue was out there and people were finally talking about it," she said.
True, they were talking — on forums, blogs, Facebook, in bars, and in the comment section of the Missoulian. But the tone of the discourse was far from civilized. Rather than trying to understand all sides of the issue, people cherry-picked from news stories, looking for evidence to support their pre-existing opinions, particularly concerning the media.
The issue known around the country as the Missoula rape scandal, last year's "situation," and Montana's Penn State, landed on Florio's beat in December 2011. She and other local news reporters received an anonymous tip claiming multiple football players from the University of Montana had sexually assaulted two young women.
Florio sought out 0what she said were reliable sources, and became confident the story wasn't a dud. She contacted the university's spokesman, former vice president for external relations Jim Foley, for confirmation.
"He said right away, yes, we're looking into two date rapes, as he put it," Florio said. "And then he described this possible use of Rohypnol, and multiple men, and two different women, and I think at that point I was like, that's not exactly a date rape, Jim."
The Missoulian ran the story on December 15, 2011, under the far from provocative headline, "UM Probes Alleged Sexual Assault." It was the first of more than 80 stories involving sexual assault cases published by the local newspaper in less than a year. The Missoulian would later submit the coverage for a Pulitzer Prize.
Editor Sherry Devlin made sure Florio had enough time to focus on every new development. "This was an important story for us, and we needed to give her the time to work," Devlin said. Other reporters would pick up the slack on Florio's beat, and when the Johnson trial began, city hall reporter Keila Szpaller Tweeted so Florio could concentrate on her notes.
Florio said she felt energized when she was given the time to pursue this story as far as she could. She considers that time a luxury and a gift.
Television outlets, the student newspaper, and public radio also devoted many pixels, inches, and minutes to the topic. Local TV station NBC Montana ran more than 150 stories from the beginning of their coverage to right before the Johnson trial in February 2013.
For many Missoulians, it was overwhelming.
Stephen Mallas, a barista at Liquid Planet, a local coffee shop, summed up numerous conversations with customers when he said: "I thought it was a bit intense."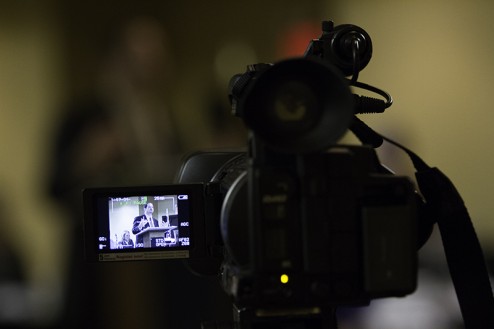 For University administrators, dealing with scandal is like trying to repair a roof with one hand behind their backs. All at once, none of the usual work they do seems to matter. Parents, students, and alumni want to know what's going on; the media are clamoring for information, and all the while, the administration has to adhere to its confidentiality policy.
University of Montana President Royce Engstrom, who at the time had been in office just over a year, learned about the gang rape allegations several days before they broke in the media. His first objective, he said, was to ensure the victims were cared for. He then contacted Diane Barz, a former Montana state Supreme Court justice, to investigate.
Engstrom said he also tried to be open with reporters.
"The media was doing its job of getting on top of these stories as quickly and as thoroughly as it could, and we did our best to respond," he said.
But Engstrom didn't rely exclusively on the media to communicate with the public. When students returned from winter break in January 2012, he organized community forums, pledging to "aggressively educate students about sexual assaults." He ordered reviews of policies and of the Student-Athlete Conduct Code.
Other women stepped forward to report additional incidents of sexual violence, and a dynamic unfolded that raised questions about the way the university, as well as Missoula law enforcement agencies, dealt with allegations of sexual assault.
In January 2012, Beau Donaldson, a running back on the university football team at that time and a Missoula native, was arrested on the charge of sexual intercourse without consent. Donaldson pleaded guilty. A year later he was sentenced to 30 years in prison, with 20 years suspended.
In February, the independent student newspaper, the Montana Kaimin, reported two female students said they had been sexually assaulted by an international student at UM. The man was able to flee the country before the Missoula City Police Department was informed about what had happened.
"I think what really angered people was the fact that the fellow left the country before law enforcement was in a position to do anything about this case," Engstrom said.
Though he said the university could have done a better job communicating with Missoula police, Engstrom maintained it wouldn't have made a difference in this particular case.
The following month, KPAX news reporter Irina Cates broke the Johnson story: A female University of Montana student accused the quarterback of raping her while they watched a movie together on February 4, 2012, a charge Johnson denied.
In statements made to a Missoulian sports reporter, former head coach of the Griz football team Robin Pflugrad praised Johnson as a man with "tremendous moral fiber." Five days after the March 25, 2012, article, Pflugrad was fired, along with Athletic Director Jim O'Day.
Barely six weeks later, in May 2012, the U.S. Justice Department and Department of Education launched a joint investigation into the prevention, investigation, and prosecution of sexual assaults by the University of Montana, the Missoula City Police Department and the Missoula County Attorney's office. The unprecedented investigation was what really created a buzz in national media outlets, culminating in an appearance by Florio on CNN.
As media attention escalated, fans of the University of Montana — football fans especially — grew more aggressive toward the articles coming from the Missoulian. On eGriz.com, an Internet fan forum started in February 2001, which now has more than 12,000 members, the anger soon began to focus on Florio. Members used her name as a slur, accusing her of a personal vendetta against men and Grizzly football.
"She's got an axe to grind, and I'll bet the pathetic hack is not done yet," wrote one commenter. "Wouldn't surprise me in the least if she pursues this further with the support of the boobs in the Missoulian 'editorial' staff."
The site's moderator, Brint Wahlberg, says he mostly kept up with the story through Twitter, following the feeds of the Montana Kaimin, NBC Montana reporter Emily Adamson, and KPAX. He says he doesn't think Florio had a bias against football, but that she could have done a better job presenting both sides of the issue.
"You open the Missoulian and they leave out what, to me, seems like a lot of interesting facts, but they mention Jim O' Day was in the audience," he said about Florio's coverage of the Johnson trial.
Florio says Wahlberg has emailed her apologizing for some the personal attacks against her on the site, but that there was never a collective pressure to take down the comments. Over more than a year of coverage, her "love letters," the term she uses to describe her hate mail, grew more disgusting, from letters to the newspaper to comments on eGriz.
"It's 99 percent bluster, but there is always that one crazy person that you're worried about," she said.
Other news organizations received criticism for their coverage as well.
"When you're doing a story about an institution as popular as the university, you are going to get a lot of blow-back," Montana Public Radio News director Sally Mauk said.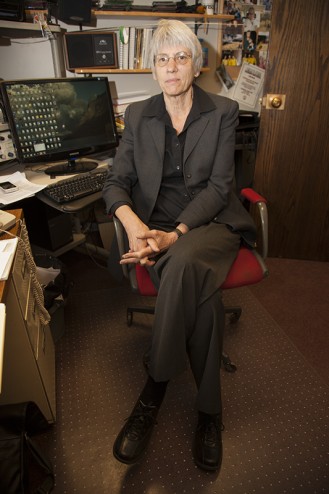 The relationship between the University and the media deteriorated long before the Johnson trial. Frustrated by the lack of access granted by the administration, Montana Public Radio began relying on interviews with Florio for its coverage. On the morning after one of the interviews, MTPR general manager William Marcus received a call from the university's Main Hall, warning him that "a Missoula reporter" wasn't telling the full story.
"You guys aren't accepting our calls for interviews," Marcus remembers replying. "We're doing this because that's all we have right now."
Marcus said he didn't feel the call crossed the line to manipulation, and that he'd rather not name the caller. Engstrom said he didn't know who made the call, but that it certainly wasn't made on his behest.
In Fall 2012, students returned to a changed campus, with enrollment down by 700. Foley was gone, as were other administrators; a new cabinet was taking shape. The university's online learning platform featured a mandatory tutorial on sexual violence. On bus stops and mirrors, posters and stickers sought to educate students on their responsibilities as a bystander to sexual assault.
The scandal left the community fractured — and still in the dark about the events that initiated the investigation. When the Barz report was published in February 2012, no light was shed on the original gang-rape case, as the women involved never sought justice other than through the University of Montana court system. The files from University Court are sealed for privacy reasons.
With the Johnson trial, the public's notions about the burden of proof in cases of sexual assault were put to a test. A total of 400 citizens were summoned to the jury pool. Many were questioned about their stance toward the Griz football team.
In the public sphere, recriminations reached fever pitch when former Congressman Pat Williams was quoted in the New York Times, saying the athletics department had recruited thugs. Griz fans started a petition to have Williams removed from the Board of Regents. Engstrom sent an email to students defending the football team.
Florio said she was aware from the start that her reporting would trigger controversy in the community. She worries that the details published about the women who came forward, and the community responses to them, might have created a hostile environment for victims to report sexual assaults.
Her "love letters" kept coming, but to Florio, her censors have just as much right to free speech as she does.
"I will defend to the death their right to say those things," she said. "No matter how disgusting they are, they have a right to say them."
In the moments before the clerk read the verdict in the Johnson trial, reporters gripped cell phones, pens and paper with tense fingers. Florio focused on the defendant, watching for reactions, as another reporter waited to Tweet for the Missoulian.
The room grew still. Not guilty.