Column by Allison Franz
Enjoy sitting down with your coffee each morning to find —and smirk at—slip-ups in your daily paper? Well, you're about to smirk a whole lot more.
The Gannett-owned Great Falls Tribune, whose pages have been laid out by designers in Phoenix since 2012, is planning to outsource copy-editing duties to off-site editors. The move is part of a company initiative apparently intended to liberate local journalists from the annoyance of actually producing the local paper.
In 2015, at least four of Montana's seven major newspapers will be paginated by designers thousands of miles away. The Lee-owned Montana Standard, Helena Independent Record, and Missoulian transitioned or were set to transition to a regional design center in Munster, Indiana, in 2014. Will Lee eventually follow Gannett's lead and outsource its copy editing as well?
Even with its copy editing still done in-house, the Montana Standard experienced a major flub (pictured) during its transition to the design center. Readers in Butte must have been shocked to discover their hometown paper had actually been serving Helena all this time. Montanans should get ready for more such snafus.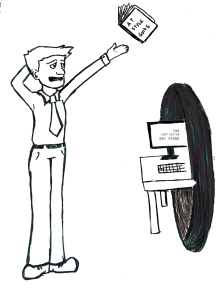 Anyone who's worked in a newsroom knows communication can get lost in translation, even when the people communicating are in the same building.
Now, imagine some late-breaking news comes in over the police scanner, and the front page requires some hefty rearranging.
And the only way you can communicate this major overhaul is via instant messages sent to an editor and designer a time zone away, who have never even been to your town and couldn't care less if one of its most iconic buildings is burning to the ground.
Layoffs and other cost-cutting measures in recent years have already whittled down most copy desks to bare-bones operations. In corporate speak, Lee Enterprises has been "aggregating top talent" and "taking advantage of new technologies" to produce "better designed pages more efficiently" in their regional design centers.
Too bad said "top talent" can't always match the right caption with the correct photo.
The outsourcing of design and copy tasks is also likely to mean Montana newspapers will employ even fewer local journalists
But the true losers are the readers, who continue to see the quality of their corporate-owned local newspapers decline. Except, of course, those readers who truly enjoy smirking at typos.
Allison Franz is a former copy editor and digital content editor for the Great Falls Tribune.