By Megan Petersen, photos by Mandy Tippett
Montana graduate student Emily Wendler spent four weeks with a family struggling to eat all local, only to realize that keeping her journalistic distance is easier said than done.
What inspired you to get a family to eat only local food in the middle of the winter?
I'm really into food. I think food is an important issue. You get on the Internet and you look stuff up about food and people say, 'What is local food?' or 'You should eat locally.' And I'm like, 'OK, what does that mean? And how hard is it to eat locally?' I mean, you go to the grocery store, and your food comes from everywhere — like, all over the world.
During harvest season, it's really easy because there's food — abundance of everything. Farmers are pulling everything out of the ground — you've got lettuce, you've got all different kinds of food. But in the wintertime, the sun isn't out; it's a lot harder. So it's also to get a sense of what it's like in the different seasons. That's another part of eating locally, is eating seasonally.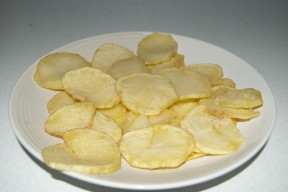 Did you anticipate developing a rather intimate relationship with your sources before you started?
I guess I hadn't really thought about it very much. I felt like an intruder at first. I was really nervous because you're going to somebody's house and you don't really know what you're doing, and you're just there with these people. At first you just feel really weird being in their kitchen, following them around with a microphone all the time. But it turns out these people are really nice and really friendly and really funny, and you have things in common with them so you want to joke with them.
I mean, they sent me a Christmas card with a picture of their son on it. It was like, 'Awww.' I really like the Bledsoes, they're really nice people. I thought they would hate me because I'm subjecting them to this project, but they agreed.
When did you realize that you had this relationship with them that surpassed your role as a journalist?
There was one time when we were just chatting about politics and I was trying to be really objective. It was before the election and I said something about the Jon Stewart-Bill O'Reilly debate. They're openly Democratic people and so am I, and I wanted to be like, 'Let's talk about Democratic stuff and Jon Stewart and let's talk about how much we love that,' but I was like 'Wait, you can't.' In my head I was like, 'Yeah, that was a really good debate,' but I wanted to go on and on about how much I like Jon Stewart and how smart I think he is and all this stuff. That was probably the initial time where I was like, 'You can't do that. You got to hold back. You can't be who you are around your other friends right now.'
Do you think they felt similarly?
Judith was always trying to ask me if I wanted anything to drink, or trying to get me a glass of wine, or asking me to sit down with them. If they had leftover avocados that they couldn't eat or like oranges, she was like, 'Take these, take these.' And I'm like, 'I can't.'They wanted to treat me like a normal person and not just a journalist who's doing a documentary about them. They wanted to be really nice to me, and it was hard for me to not accept their friendliness. I think maybe there were a few times that I did start to open up too much, and they'd be like, 'Wait, aren't you supposed to be objective?' So maybe that was weird for them. They're just such nice people; I feel like it wasn't too hard for them, but I don't know how they took it. That would be a good question to ask them.
How did the relationship affect your interviews?
I feel like Ben was more careful with his words. When he was speaking, he knew that this was going to be on the air someday, but Judith, I think, was more open and free to say whatever she wanted. There's a lot of times in my transcription and all my audio that I've been listening to, and I'm like, 'Ehhh, Judith,' and it's some really juicy content. She's sort of speaking very subjectively, just spewing her opinions about some grocery store somewhere, or some product from some store, or this lady that she met who has no clue what local food is, but she thinks she does, and Judith's like, 'This lady has no idea what she's talking about.' It's really good audio, and I want to use it, but — I know that a lot of their friends will hear the story when it airs and they'll hear it. So I have to make that decision — do I want to use this quote that doesn't make Judith really look that awesome in my story, because I don't want her to feel like I'm betraying her. Because she trusted me and let me in her house and helped me with this project for four weeks. This family subjected themselves to eating local food for four weeks so I could have a master's project. I feel like I owe them something, and I feel like I owe them to not make them look stupid, because they worked really hard, and they did it, and they tried their best. Eating locally isn't always that easy. You learn a lot and there are lots of emotions coming in and out of your brain and out your mouth. Some of that stuff may not have been fully processed, but it makes for great radio.
Do you still plan to maintain a relationship with the family?
We talked a couple times and said, 'When it's all over, come over and eat dinner. Actually sit down and eat with us and be yourself.' I think the fact that we've done this journalism project will affect any future relationship that we have, because I will forever feel like I'm the journalist that did the documentary on this family, and I won't be able to fully let myself go. I hope I see them. I really like them. I would feel weird going over to their house, just myself, but if I saw them out at a social gathering, I would like to hang out with them and spend time with them, because they're cool.
If you could do it over again, what would you do differently?
I think I would have been nosier. I think I was afraid to be nosy because that's what journalists do if they ask tough questions. They really try to get the meat out. I think that because I liked them and didn't want them to not like me, there were maybe some things that I avoided asking.
Like what?
Sometimes where Judith would say something and I would think in my head, 'Really?' That's what I wanted to say and question her motives — that's what I wanted to do — but I felt like that was a personal attack on her. And that's ok, but I feel like she would have been like, 'You're questioning me?' and I didn't want to have that experience. I think that as journalists we should do that and I should have done that. I'm just being really honest.
How does this affect your view of yourself as a journalist?
We cherry-pick information, despite all the classes that you take that say don't do that. As a journalist, you select the information. You have this much information, and you select a portion of that information to go into your story, and although you are still telling a story, you're leaving out certain stuff, so I'm very aware of that now. Ultimately as a journalist, you want to tell good stories that are appealing to people, that they want to read. You don't want it to be boring; just blah blah blah, dry information. I'll be aware of that in myself and aware of that anytime I read a story now.