Story by Michael Wright, photos by Ashley Stidham
Seventeen years ago, the Festina cycling team was booted from the Tour de France after its coach admitted to supplying the team with performance-enhancing drugs. By now, it's well known that cyclists used PEDs. Then? Not so much.
The New York Times asked Tyler Hamilton, who was riding next to Lance Armstrong with the U.S. Postal Service team, about the scandal.
"The scandal's a shame; it's terrible for the sport of cycling," Hamilton told the Times. "But maybe this is going to open some eyes and change things."
By then, he knew how to dance with the media. He had to, since the U.S. team was doping as well. During training, a public relations crew would feed him strategies for dealing with the press.
"You go into an interview with three points you want the journalist to make sure they know," he says, sitting on the patio of Missoula's Double Tree Hotel. "I don't do any of this anymore, or think this way."
Hamilton talks in energetic bursts, as if he has a thought there's not enough time for.
He moved to Missoula in 2012, after a decade of life pivots – riding at the front of the pack in the Tour de France, winning a gold medal, failing a drug test, being suspended from cycling, and losing a legal battle. Returning to, then banned once more from the sport.
Along the way, his image in articles morphed, from darling to pariah and, ultimately, whistleblower.
He's always been in a rush.
Born in Marblehead, Massachusetts, Tyler Hamilton spent his teenage years digging through the Boston Globe's sports page for information on the Red Sox and Patriots, in addition to trying to keep up with his two older siblings.
"He was go-go-go," his sister Jen says.
The Hamiltons were skiers, spending most winter weekends in New Hampshire.
Tyler made the University of Colorado ski team, but a broken back sophomore year ended his competitive skiing days.
Cycling became his new niche. He joined the school's team and won the 1993 national championship. He thinks that's the first time the Globe wrote about him, but he doesn't actually remember. It's all a blur.
"Before I know it, I'm in the Tour de France," he said.
The words come out in a rush, as if he wants to spit them out.
After going pro in 1995, Hamilton reached the top of the cycling world fast, the same way everybody else did, blood doping.
He helped Armstrong win his first three tours. In 2011, he left the team and became one of Armstrong's main competitors for the next few seasons.
Reporters loved him. A 2002 Chicago Tribune story called him one of the best-liked cyclists on the pro circuit. The prosperity culminated in the 2004 Olympics when he won gold in the time trial, the first U.S. cyclist to do so in 20 years.
Back in Massachusetts, his family became part of the legend, as every local paper and TV station wanted to tell the feel-good story of how the hometown kid went big time.
"It got to be such mayhem we'd literally not answer our phones," Jen Hamilton said. National media were all over them too, including Sports Illustrated.
A month later, the storyline flipped.
Two blood tests — one taken a day after he won gold and another a month later — showed evidence of illegal blood transfusions.
The Washington Post said he told reporters he was "100 percent innocent" and that he'd fight the results "until I don't have a Euro left in my pocket."
He was stained. His brother stopped finding sports talk radio on the drive home.
"All of a sudden they're talking about my brother and not in a good way," Geoff Hamilton said.
Tyler Hamilton's lawyers dug for a way to prove his innocence. They thought they caught a break when a professor suggested non-native blood cells found in his body could have been left from absorbing a twin before birth. The "Chimera Defense" explained why he tested positive for blood doping, but it wasn't a good enough story for the courts. Hamilton was suspended from cycling for two years.
He kept protesting his innocence (even today he contends something was wrong with that test), but proof of cheating continued to surface.
In 2006, he was named in connection with a Spanish doctor who sold PEDs to several top athletes. The same day, he went to a funeral in Boulder for a cyclist who was hit by a truck. Many people from Boulder's robust cycling community were there.
"I could feel the eyes just tearing me apart," he said.
Through all of this, Hamilton battled depression. He returned to the sport after his suspension, but after two years and another failed drug test – this one resulted in an eight-year ban – he retired for good.
And in another storyline twist, he and his wife divorced.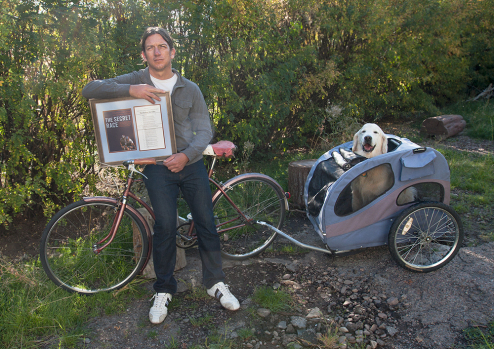 Hamilton is quick to point out that when he decided to blow the whistle, others had already come forward. Frankie Andreu and Floyd Landis had given their versions of the truth to the media, and federal investigators were sniffing around.
A grand jury subpoena convinced him to talk.
He testified in 2010. In 2011, he went on 60 Minutes. He told his family the truth less than a week before the show aired.
Hamilton became the latest cyclist to talk openly about his doping, and now all signs pointed to Lance Armstrong, the long-time epitome of overcoming adversity.
A month after the show aired, Hamilton went to Aspen for a charity event. While he was out for dinner with a few friends, an arm stopped him in his tracks.
Armstrong was embroiled in a legal battle, and Hamilton would be testifying against him.
"He threatened to make my life a living hell," Hamilton said. "He kept saying, 'how much did 60 Minutes pay you?'"
No fight, just loud talking. Hamilton made it back to his table, and life went on. He'd already begun work on "The Secret Race," his tell-all book written with cycling journalist Daniel Coyle.
The book landed him all over television: Anderson Cooper, Piers Morgan, Jay Leno, ESPN.
"You kind of do the rounds," he said.
Reporters came to him too, even though he'd moved to Missoula by then with his second wife. The couple has since divorced.
"I can't tell you how many interviews I did right here at this place," he said of the Double Tree Hotel.
One day, Damon Ristau, a local videographer, was sent to film Hamilton for an L.A.- based TV show. When he took the assignment, he says he had no idea who Hamilton was or why he mattered. They became close friends, hiking and road-tripping together. Hamilton hangs with Ristau's four kids, they talk meditation.
But they don't talk cycling.
"He kind of glosses over a little bit. He's tired. He's tired of talking about it," Ristau said.
The remaining trophy of Hamilton's success hangs from the ceiling in his cluttered garage.
It's a pair of black cowboy boots with a gold medal emblem sewn on them. He gave the medal back to the International Olympic Committee, so these boots are it.
These days, Hamilton lives in a rental home with his dog, Tanker. He paddle boards on the Clark Fork River and travels to charity events around the country. A training company named after him is run primarily by Jim Capra, a friend he's trying to convince to move to Missoula.
People contact Hamilton through a publicist, and he takes whatever interviews make it through that filter. He feels like he has a lot to share, and he hopes it can help somebody somewhere. No more talking points for journalists, just a really long story.
The book contains all he has to say, but the only copy left in his house is in Japanese; he's been giving them away like candy.
Michael Wright is a dairy farm refugee and University of Montana journalism student. He is currently fly-fishing, and he doesn't want you to know where.